Enterprises to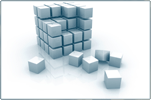 day have a growing need to focus on their core competencies, invest in product research and development and meet constantly changing demands imposed by software vendors and competitors. High costs, lack of talented developers and investing innew technologies that do not yield immediate returns make this even more difficult.
So how can companies embrace these dynamics?
One sure shot solution is to get help from contractors. Embrace a 24 hour work environment with help from companies around the globe to help you leverage the most of your window of opportunity.
Another is to offload the legacy products to lower cost alternatives and reassign the core developers to invest in future.
We provide highly flexible and extended solutions, accommodating business needs evolving overtime. We have successfully executed a number of highly customized small to midsized business solutions. By using our offshore resources we deliver solutions on time, keeping the overall budget in scope of initial estimation.
We have experience catering to various industries like Finance, Telecoms, Logistics/cargo, Education, Travel, Manufacturing, Health care and Defense.
Some of the ways could further help you achieve agility in your development process are:
Complete Software Application Development
Software parts/component development (parts of a larger application)
Development of Software Integration Components
Software re-engineering or Refactoring of existing applications
Enhancements or Bug fixes in existing or older versions of your applications
Product memory leak or coverage analysis
Re-engineering of legacy code to a new technology
Software Prototyping