L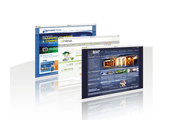 everages technology & creativity to build interactive, innovative & efficient portal solutions according to the categorized need of clients. Whatever be your web design requirements, we can create solutions to meet them at a higher ROI. Design and develop web enabled software covering all web-related business needs including web applications development and modernization, customization of open-source solutions, web services building, mash-ups deployment, intranet/extranets development or system integration.
Communities and Networks (Social Computing) – can help create your idea into an attractive, easy-to use and scalable social software that would facilitate on line communication and networking of social, economic, legal or political nature. We deploy mailing lists, blogs, wikis, instant messengers that allow storing, exchanging, downloading data, music, and video on the net. Facilitates your Web 2.0 presence and enables interactive application that can deliver rich interaction to your users.
E-shops and Web Portals – can develop e commerce application to allow selling of your goods and services online. Helps in integrating different payment systems, shipment management, customer management and complex product line management into a seamless workflow. Can implement secure transactions and complex roles based two level authorization systems for added security.
Online Intranet/ Corporate Portal: We can help build a custom intranet portal for your company that enables efficient working of your employees and enables easy group interactions with direct information exchange.
Web enabled systems monitoring: provides advanced inter-process communications technology to build system monitoring components to manage your remote applications with ease.
Online Marketplaces and Auctions – we keep on developing simple auction site development to advanced auction management system solution creation.
Remote Consulting Systems – expertise keep on developing various types of secure, scalable and up-to date implementation of online services for many industries.
Custom web applications – that deliver content and services using web technologies with rich client as well as thin client interactions.
Business process automation – Managing all the various activities of the organization is a cumbersome task. Provide you the assistance by doing the automation of the customer relationship management, Accounting, Supply chain management, Human resource management, Work flow management.
Payment Gateway/ Shipper integration – Facilitating integrated application flow with integrated third party payment and shipping interfaces. Payment integration like PayPal or other e-payment gateways. Can also integrate with shipping API's like FedEx or UPS web-services.
All of our web applications are designed with:
Well crafted object oriented principles for easy future maintenance.
Search Engine optimization principles
High performance optimized pages
Use of object caching, pooling and minimum queries to optimize database access.
Optimum database design for efficient application performance.